Kyojima, 3 Chome−13−7, Sumida City, 131-0046 Tokyo
Open: 12.00 -  7.00 pm 
ONA project room is excited to announce its new collaboration with a painter Juri Akiyama who will present with us her solo show from October 
15
 (fri) to 
17
 (sun).  
The exhibition presents artists' recent artworks. Her beeswax supports are often made by casting the surface and spaces of existing objects/architecture, through which the artist questions and explores the concept of painting, its surrounding, and, most importantly, the concept of "mottai (
勿体
)". 
For the occasion of collaboration with "ONA project room", Juri has also created some new works to touch on the subject of women. 
This October we are looking forward to welcoming you in our space at the occasion of this new collaboration!
In this exhibition, the artist will exhibit her recent beeswax pieces, through which she visualizes and materializes negative spaces of objects and architectural spaces surrounding her life as her painting surface. Regarding the tradition of beeswax as a material for anatomical models and samples, she creates for herself a pseudo-parodic surfaces through preparing her ground by using casting as sampling. Through loading the exhibition space with negative spaces, the artist attempts to unwind the relationships of image and contents, ideal and record, and the grammar of our gesture surrounding the original objects. 
ONA project room (
オナ・プロジェクト・ルーム
) 
はこの度、
2021
年
10
月
15
日(金)
- 
17
日
(日)に秋山珠里による蜜蝋の地の上にペインティングを施した作品を展示開催します。
蜜蝋の支持体は既存のオブジェクトや建築物が持つ空間・表面をキャスティングすることで制作されており、それを使うことを通して絵画の概念やその周縁、そして何より「勿体」というテーマへの問いかけ及び探究に取り組んでいる。
ONA
プロジェクトからの招待を受け、女性という主題にインスパイアされた新作も展示する。
この新しいコラボレーションの機会に、皆様をお迎えできることを楽しみにしています。
「ニンファのとばり」
 「ニンファのとばり」では、作家の周りにある物体や建築空間のネガティブ・スペースを蜜蝋によって可視化・物体化し、絵画の支持体とした作品を展示します。蜜蝋が人体模型やサンプルなどに使われてきた伝統に紐付けながら、キャスティングによるサンプリングで「パロディもどき」な平面を作り出します。これらのネガティブ
•
スペースを空間に設置しながら、イメージと内容、理想と記録、そしてその周縁の身振りの文法などの弛緩を試みます。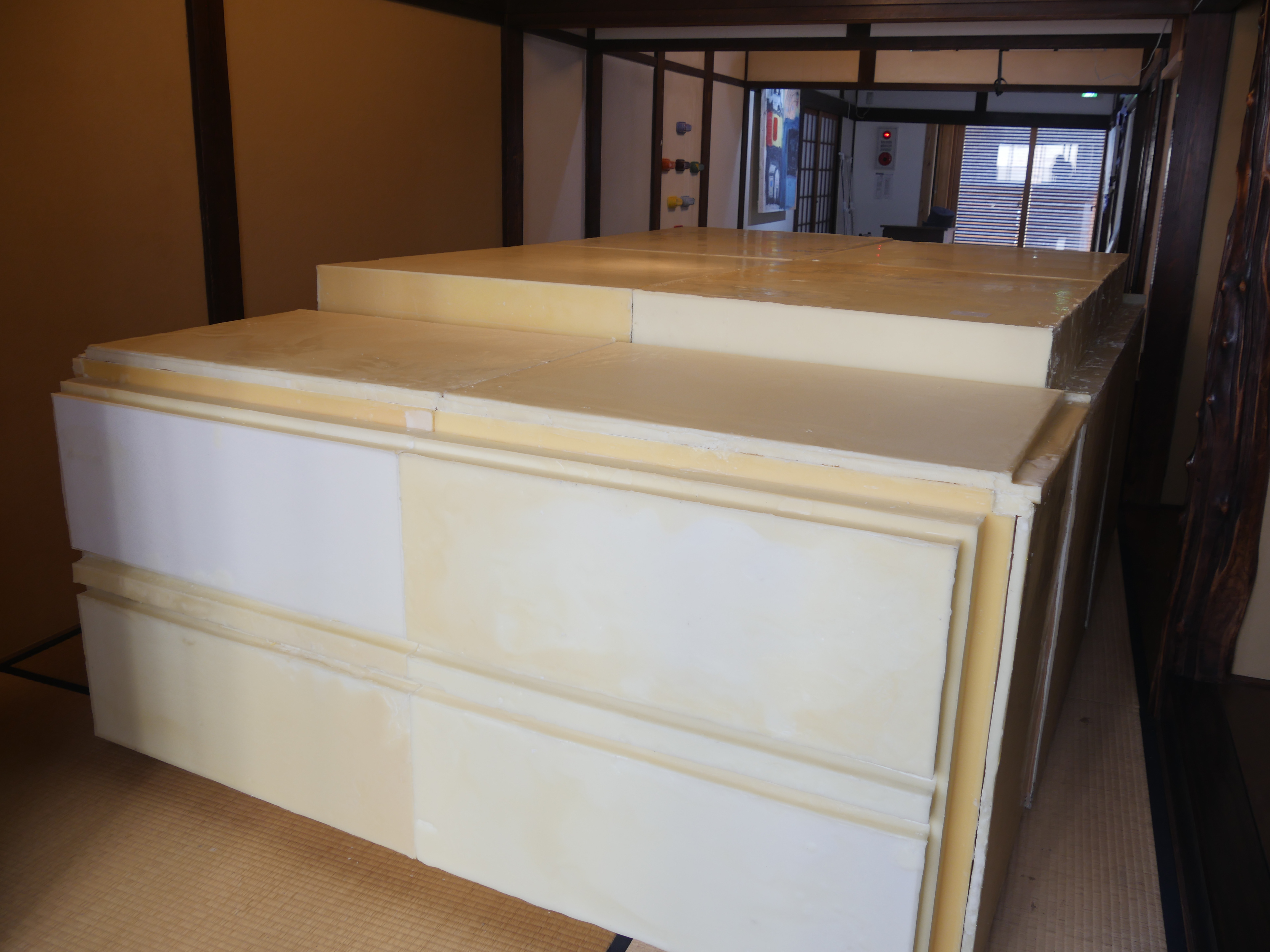 About the artist:
Juri Akiyama received her BFA in Rhode Island School of Design (2015), MFA from Global Art Practice of Tokyo University of the Arts. Having the concept of "mottai (
勿体
)*" as her main theme, she explores its various subtopics through her painting practice. She experiments with motifs such as cigarette boxes, labels, box and creates pesudo-parodic space/ground for painting. In recent years, she has been using beeswax to cast her painting support.
*
Mottai
is a word that she extracted from common Japanese phrases such as
mottai-nai
and
mottai-buru
, in which, strangely, the meaning of
mottai
is almost never questioned. What can be inferred from these phrases as the meaning of
mottai
is could be "the ideal state of how things should be", which can never be reached. Indeed, in the structure of the aforementioned phrases the word
mottai
is negated—it becomes perceptible only by being impaired, and its existence could only be suggested as a negative space. 
ロードアイランド・スクール・オブ・デザイン絵画学部卒業、東京芸術大学大学院
GAP
学科修了。
「勿体」という、あらゆる体を弾き飛ばす概念を主題材として探究。
さまざまなサブトピックに分岐しながら、打ち捨てられたタバコの箱、破れた広告、箱、ラベルなどをモチーフに絵画作品を制作し、近年では蜜蝋を使った表現を試みる。