where the new lights shine
28/10/2022 - 30/10/2022
UNTITLED space, 
3-13-7 Kyojima, Sumida City, Tokyo. 131-0046
Open: 12.00 - 19.00
In October we are pleased to invite you to visit works created by Ibaraki based artist Yumi Akari. In this multidisciplinary installation created especially for the Kisuiiki project, the artist will be working with the ideas of light and shadow, as a metaphor for complicated father-daughter and artistic relations existing between Oi and Hokusai. 
Light and shadow are inseparable, like two sides of the same coin. We feel light in the presence of shadow, and we know shadow from the presence of light.
Katsushika Ōi had few opportunities to become known as a talented painter, or even just as a talented female artist of her time. Instead, her life and legacy have lived in the shadow of her father, the revered Hokusai. His light burns bright in the history of Japanese ukiyo-e, while Ōi is only acclaimed for being "the right hand of Hokusai".

For this exhibition the artist attempters to recreate that interplay of light and shadow using prisms of crystal glass, mica, and the same mineral pigments derived from ore that were used in traditional Japanese paintings. The mobile disperses natural light during daylight hours and artificial light when it becomes dark, creating a space where you can feel the coexistence of light and shadow as well as how this dynamic changes throughout the day.
10月のONA project roomは、茨城県を拠点に活動するアーティスト・荒井佑実の個展を開催いたします。
本プロジェクト「汽水域/Kisuiiki」のために制作された複合的なインスタレーションは光と影をテーマに、応為と北斎の間に存在する複雑な父娘関係や彼女たちの芸術的関係のメタファーとして制作されます。

「表裏一体」、光と影は切り離すことのできないものです。私たちは、影があるから光を感じ、光があるから影があることを知っています。
葛飾応為は才能あるアーティストであり絵師でしたが、生前は評価される機会が僅かにしかありませんでした。
それはまるで、「光」の源であった父・北斎の影になったかのようです。
展示で発表されるインスタレーションでは、光を受けてプリズムを作るクリスタルガラスと雲母、そして日本画に使われる鉱石から作られた岩絵の具を用いて制作しています。

Exhibition images:
Photos by Maciej Komorowski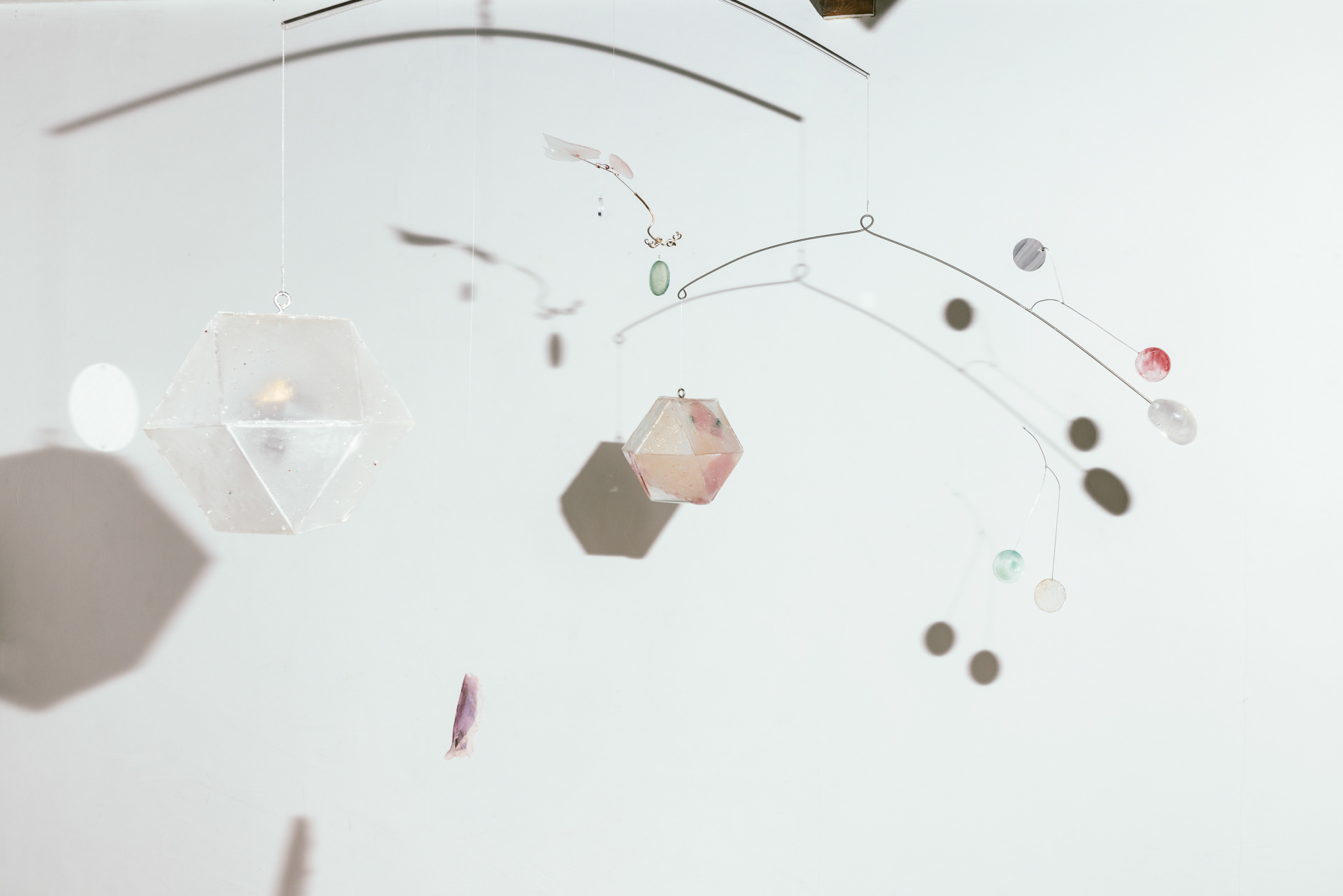 About the artist:

Yumi Arai is a visual artist currently based in Ibaraki prefecture. In 2010 after graduating from Tokyo Polytechnic University, she studies at Department of Design, Visual Communication Course in Sweden, and in 2012 she graduated from Capellagården textile course. Arai creates ephemeral objects and installations that expresses a spiritual world that interweaves common consciousness that reincarnates, memories hidden in the land, and myths. Her work was part of many exhibitions in Japan. 
荒井佑実   
2010年 東京工芸大学芸術学部デザイン科ビジュアルコミュニケーションコース卒業後、スウェーデンへ留学。
2012年 Capellagården テキスタイルコース卒業現在茨城県在住。
輪廻する共通意識や土地に潜む記憶、神話などを織り交ぜた精神世界をインスタレーションで表現する。
主な展示に2021年「in a room,over,round,found」TOTAN / 東京 ・O'keeffe / 茨城
2019年「Funes」にじ画廊 / 東京
主なアーティストインレジデンスに2022年「Art Cycle」茨城、2021年「紀の国トレイナート」和歌山、2017年「artles」 Finland などがある。
Workshop with the Artist!

The art of catching the light and shadow. During this two hour long workshop participants, together with Yumi Arai will learn the art of making mobiles. This playful workshop will be an opportunity to explore balance, as well as the art of catching the light. For building the structure participants will use materials that the artist herself used in her works presented at the gallery. 
This workshop is intended for elementary school students and above, and it will be conducted in both English and Japanese. 
Date: 29 OCT 2022 (sat)
Time: 10.00 - 12.00
- workshop capacity - 5 people 
- registration required
- fee - 1000円 (paid at the venue)
この2時間のワークショップでは、参加者はアーティスト・荒井佑実と一緒にモビールの作り方を学びます。
この遊び心のあるワークショップは、バランスと光の受け方を探る機会にもなっています。
モビールの制作には、荒井佑実がギャラリーで発表している作品に使用している素材を使用します。
参加対象は小学生以上、英語と日本語で行われます。
日時:2022年10月29日(土)
時間:10:00〜12:00
- 定員: 5名
- 要予約
- 参加費: 1000円(当日会場にてお支払いください)
---------------------------------------------------------------------------------------------------------------------------------------------------------------------------------------
主催:ONA project room、「隅田川 森羅万象 墨に夢」実行委員会
共催:墨田区  
協賛:株式会社東京鋲兼, 東武鉄道株式会社
※ 「隅田川 森羅万象 墨に夢」実行委員会 事務局は(公財)墨田区文化振興財団が担っています。